Infrared Dog Bed - Orthopedic, Washable & Waterproof
Bullybeds.com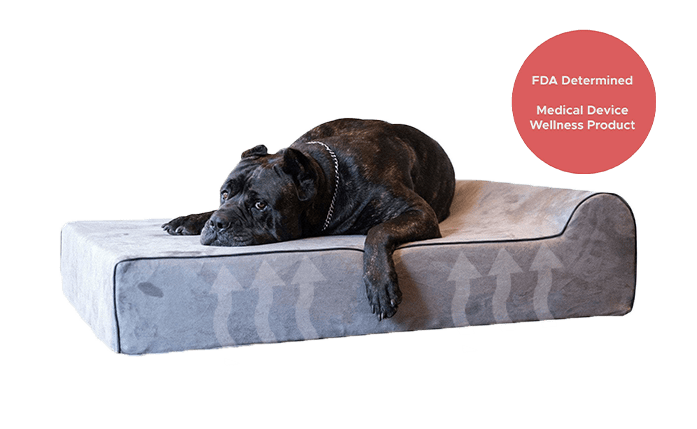 Industry Leading 200 Day Chew Warranty
Removable and washable chew resistant cover
Waterproof liner included
FREE shipping and returns
Made from Certipur-US certified-safe memory foam
Heavy duty, chew-resistant zippers
Family-owned small business based in Florida
Industry leading 20-Year Warranty
Removable, washable microfiber cover
FREE shipping and returns
Made from Certipur-US certified-safe memory foam
Heavy duty, chew-resistant zippers
Family-owned small business based in Florida
The first and only
dog bed
that has FDA medical device certification. Infrared beds for dogs have been shown to have advantageous effects in treating joint and shoulder stiffness, muscle pain, arthritis and similar conditions as it treats the whole body and not just a specific symptom. Using your dog's body as its power source, Bully Beds infrared ion advanced ceramic coated fibers reflects far infrared ray (FIR) emissions that are naturally emitted by body heat back to the skin. The FIR dilates blood vessels, which temporarily increases blood circulation and enhances tissue oxygen levels. These infrared emissions are then absorbed deep into the tissue, providing increased energy, recovery time and reduction of discomfort. Finally, the fabric reflects the FIR, allowing heat to escape, which moderates sleep temperature and keeps the bed from sleeping hot.Our infrared beds help improve blood circulation by stimulating blood vessels, which increases the delivery of oxygen and nutrients in the cell to areas with soft tissues.
- CertiPUR-US Certified Foam
- Foam is free of
PBDEs, TDCPP or TCEP ("Tris") flame retardants, mercury, lead, heavy metals, formaldehyde, phthalates, CFC's.
- Specifically designed for orthopedic joint and hip support to reduce discomfort. Soothes pain and aides recovery.
- Removable and washable cover
- Non-Hazardous Foam
- 20 Year No-Flat Guarantee
- Large 48"x30"x7" / XL 52"x34"x7" / XXL 60"x48"x7"
- Non-Toxic, Hypoallergenic Materials
- 4.5lb Density Orthopedic Memory Foam Dog Bed
- Free Shipping
- The perfect dog bed for great danes, mastiffs and other large breed dogs.
- Beautiful Cover Accent Piping
- Heavy Duty Zipper With Cover To Prevent Chewing
- Non-Slip Base
Faqs
What is an infrared dog bed?
Infrared beds do not differ much in feel and physical attributes when compared with ordinary dog beds. Rather, it is in their internal features and multiple benefits wherein you can test its magic.
While your dog is relaxing and snoozing on top, an infrared bed will gradually (and safely) rise in temperature. This feature is what activates the many advantages that both you and your furry friend can enjoy not only instantly but also in the long run.
How exactly do they work? An infrared bed gets its energy from your canine's natural body heat. Because its top layer is embedded with infrared ion advanced fibers, it automatically reflects far infrared ray (FIR) emissions that have been naturally emitted by your dog's body, right back to your canine's skin.
The process of reflecting FIR also allows the heat to escape, thus preventing the infrared bed from overheating or getting uncomfortably hot to the touch.
What are the benefits of an infrared dog bed?
Infrared beds offer a natural solution to your dog's discomfort, no matter the source or reason. Some of the most notable benefits an infrared bed provides are:
It helps in treating joint related pain
It helps lessen symptoms of arthritis, hip dysplasia, and similar conditions
It eases shoulder stiffness
It reduces general muscle pain
It helps in dilating blood vessels, which in turn improves blood circulation
It enhances tissue oxygen levels
It accelerates the recovery time for both muscle and joint injuries
It increases energy levels
It hastens the distribution of nutrients to areas with soft tissues
It alleviates overall discomfort, especially for elderly and/ or sickly dogs
It promotes healthy, deep sleep
It helps regulate your dog's body temperature, especially for senior dogs who find it a challenge to naturally do so over time
What materials are used in an infrared bed than other beds?
Infrared beds can be designed using the same materials as other therapeutic dog beds, such as a durable foam, heavy duty zippers, and easy to clean covers.
However, the edge it has over all the rest are the infrared ion advanced fibers embedded in its fabric. These fibers are what reflects the FIR emissions back to your dog's skin and activate the benefits not found in just any other bed.
Are infrared beds made for all breed dogs?
Absolutely! An infrared bed can be used for all types of breeds of all ages. There are just some dogs that can stand to gain more from using one, such as older dogs, injured canines, and those with medical conditions.
Dog breeds that are also more susceptible to feeling cold will enjoy the warmth that an infrared bed can offer.
Is the infrared bed easily washable?
Yes, infrared beds are an absolute breeze to keep clean.
The BullyBed infrared bed cover can be easily removed and slipped back on. It is also machine washable - just be sure to keep your settings on cold water.
When drying, you can pop the infrared bed cover in the dryer on low heat or leave it out to air dry until ready.
Furthermore, our infrared beds feature waterproof liners so you won't need to worry about the inner foam getting wet!