Waterproof Dog Blankets
Are you a dog owner that wants to protect your furniture? Or give your furry friend a blanket they can call their own? Then we have just what you're looking for. Our high quality waterproof dog blankets are water resistant and machine washable -- not to mention super comfortable. It's the perfect waterproof dog blanket for your couch, for your car, or even for your king size bed.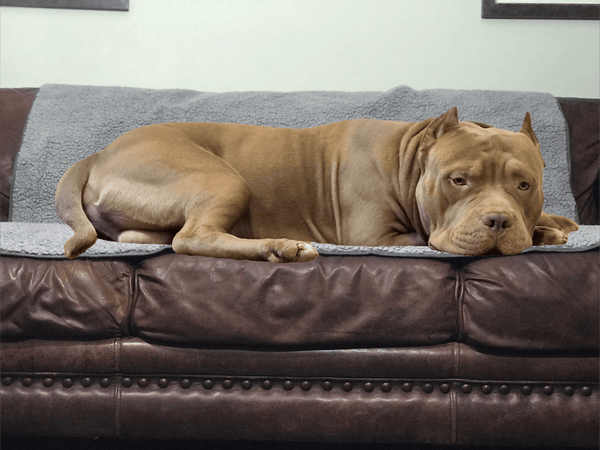 Benefits of waterproof dog blankets
The best waterproof blankets for dogs are those that are not only comfortable, but are also functional and durable. Both our faux fur and Sherpa top throw blankets share multiple benefits, including the following:
Waterproof. Our waterproof dog blankets greatly aid in keeping liquids from seeping through to your protected surface. These are great for preserving your couch, car seats, cargo areas, beds, and other spaces that are susceptible to getting bite marks, scratch marks, hair, drool, and more.
Easy to clean. Both options are machine washable and dryer safe. Never before has it been this easy to keep your dogs hygiene up, while not putting any extra stress on your end.
Large sizes and neutral colors. These are great for large sized dogs, or if you just want to have an ample coverage area secured. They also come in neutral colors that are a breeze to match with any interior.
Prevents odors and infestations.  The waterproof cover does more than keep moisture at bay. It also helps in preventing the absorption of foul odor, the infestation of fleas or dust mites, and keeps everything dry to stop bacteria from growing.
Super soft. We design our blankets with function and comfort in mind. Our dog blankets are made of super soft fabric that will have your pet cozy and warm with every use.
Sense of security. Many dogs can suffer from anxiety or discomfort from chaotic routines. A blanket can help them feel calmer when they get stressed.