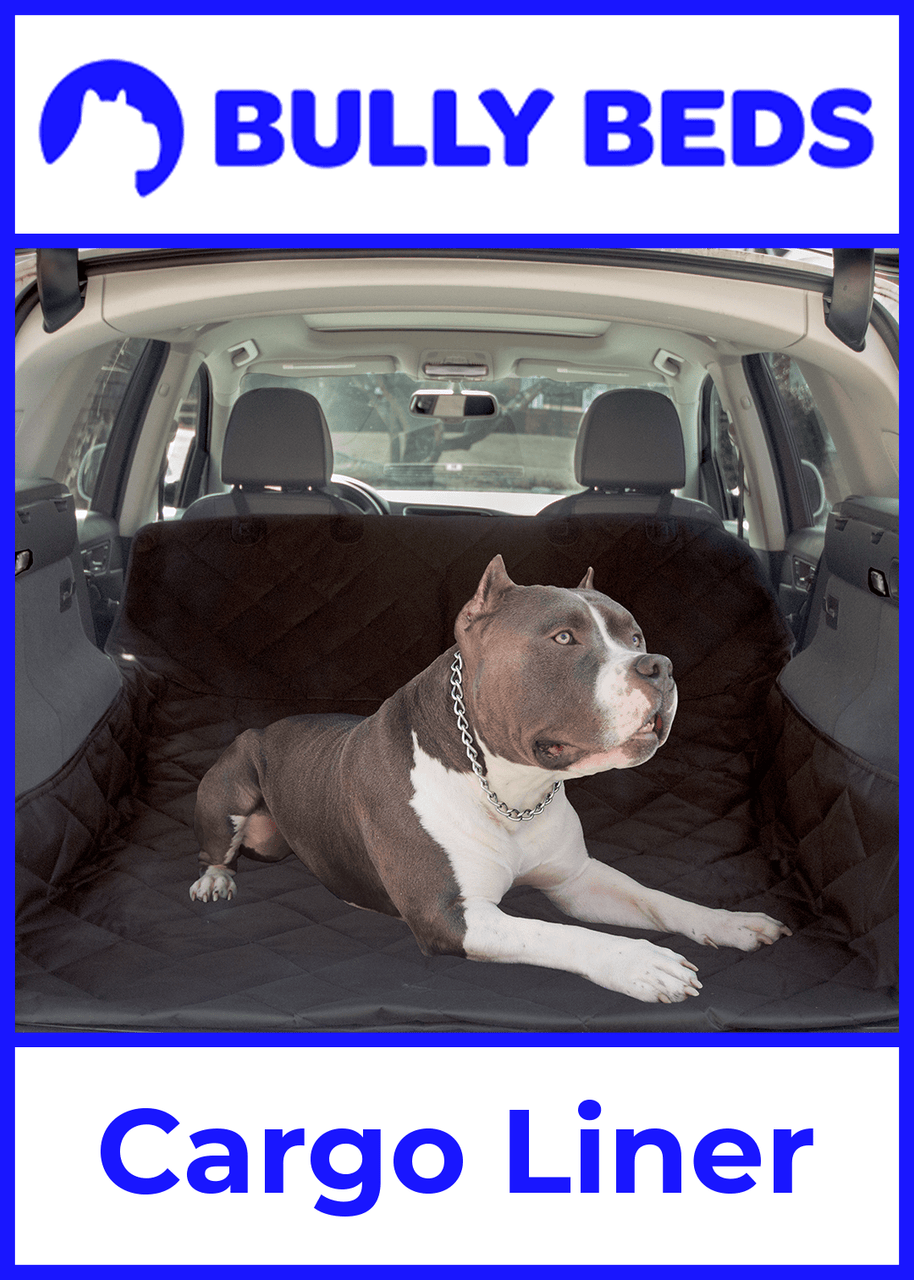 Now you can take your dog anywhere with you in the car while protecting your cargo area from scratching, dirt, water, accidents, hair and more. Built to universally fit any cargo area. The non-slip bottom keeps it in place, while the scratch and chew resistant material means it's built to last. Straps attach to headrests for a secure fit. Sections fold and conform to your cargo area for an easy fit.
Measures 54" x 90"
Faqs
What is a dog cargo liner?
A dog cargo liner is a handy tool that helps in protecting your car's cargo area from filling up with scratches, bite marks, dirt, water, saliva, urine, other types of liquid, dog hair, and a whole lot more.
Our BullyBed dog cargo liner features a non-slip bottom to ensure that it stays in place throughout the entire travel period whether it is just for a quick grocery run or a full on road trip to the opposite coast.
Its surface is designed to be both scratch resistant and chew resistant to promote a longer lifespan, keep your dog comfortable, and really get to maximize your money's worth.
Our cargo liner for dogs easily latches on to the headrests using durable straps, without getting in the way of the human passengers sitting up front. It can also be easily folded and kept away when not in use.
Why do I need a cargo liner for dogs?
Our furry friends may be cute and cuddly but they also have the innate need to gnaw, dig, scratch, and chew on what their snouts come into contact with.
This should not be a reason to leave them at home and miss out on adventures!
With a dog cargo liner handy, you can ensure both your pet's comfort and your car's safety while on the road.
A few of its advantages include:
Keeping your cargo area dry
Keeping your car free of scratch marks
Keeping your car's cargo area free of bite marks
Keeping dirt off the floor of your cargo
Keeping dog hair at bay
Keeping smells from sticking to your car
Keeping bacteria from growing due to dirt and/ or liquids left on the cargo floor
Do dog car liners easily fit in all Cars?
Yes! Our BullyBed cargo liner for dogs is designed for universal usage and can fit just about any cargo area.
It features multiple sections that can easily be folded and formed to your car's cargo size. Because of its versatility and ability to shape its way smaller and wider, it can easily be used in almost any type of vehicle.
The multiple straps attached to the liner also guarantee that it stays secured and in place throughout the trip no matter how flat out or folded up it is.
What are the sizes available for cargo liners for dogs?
Our BullyBed cargo liner for dogs comes in one universal size at 54" x 90". However, it is versatile enough to be folded and conformed for smaller surface areas due to its unique and innovative design.
The liner features panels that can be folded multiple times, allowing you to size down your liner and easily fit it into smaller cars or storage areas. This standard size is also fit for dogs of all breeds and sizes to stay comfortably on without leaving room for their legs to stick out.
How to clean or wash a cargo liner for dogs?
Our Bully Bed dog cargo liner is made of waterproof material. This allows you to easily clean up after your dogs after a fun day on the road by simply wiping the liner down with a damp cloth and leaving it out to air dry until it is ready for your next trip.
Similarly, you can also pop the dog cargo liner in the washing machine and have it tumble in cold water then place it in the dryer on low, or leave it out to air dry.
Is a dog car liner waterproof?
Yes, our BullyBed cargo liner for dogs is waterproof to ensure that water, urine, saliva, and other types of liquid do not seep through to it and penetrate your car's floor. This greatly helps in preventing smell from sticking to the surface or bacteria from building up, leaving you with a hygienic liner that both you and your pooch can appreciate.