Bully Bed Orthopedic, Washable & Waterproof Big Dog Beds
Bullybeds.com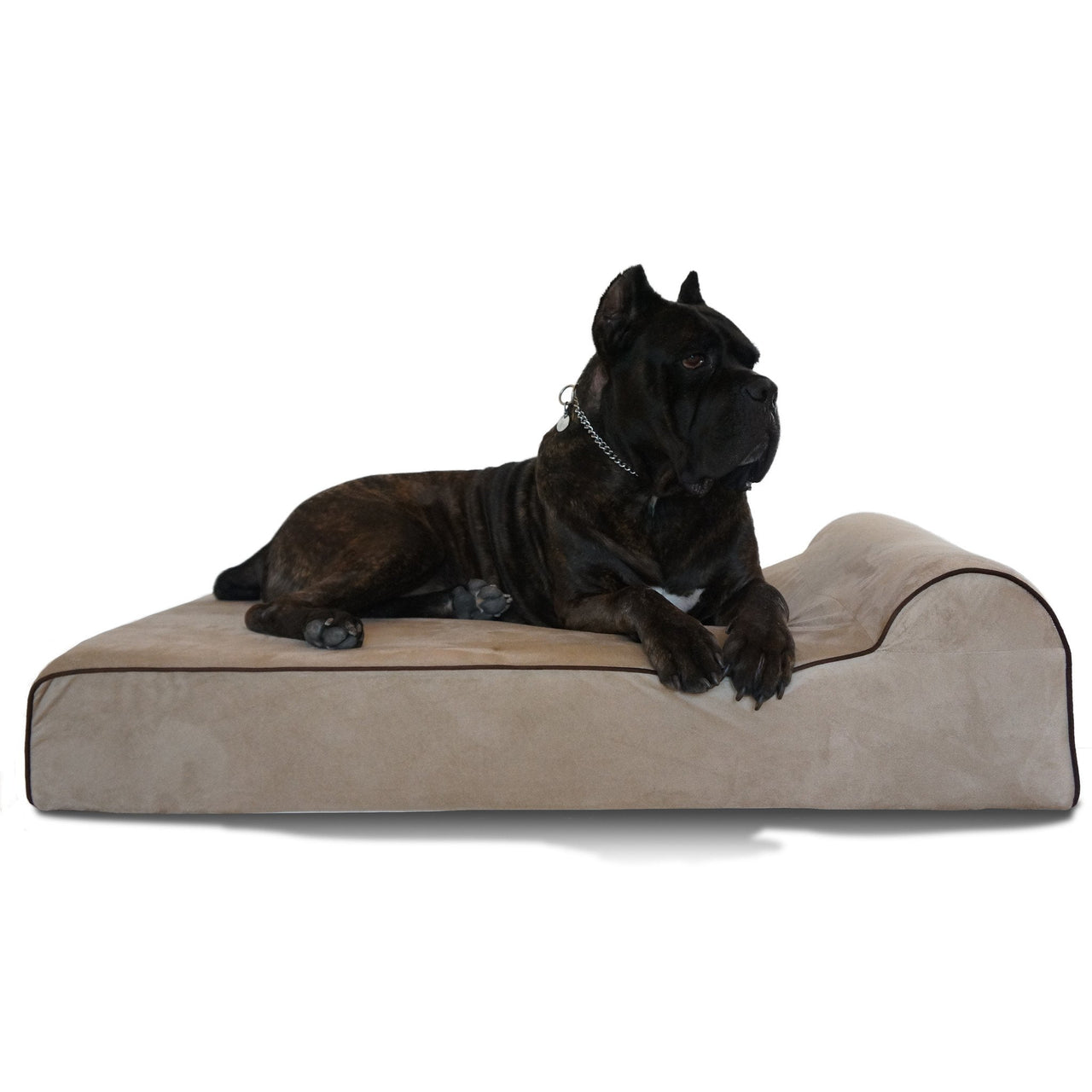 Industry leading 20-Year Warranty
Removable, washable microfiber cover
Waterproof liner included
FREE shipping and returns
Made from Certipur-US certified-safe memory foam
Heavy duty, chew-resistant zippers
Family-owned small business based in Florida
Our Bully Bed Orthopedic, Washable & Waterproof Big Dog Bed comes in sizes varying from Medium all the way to XXL. This orthopedic dog bed comes with 4.5lb density human grade memory & support foam. This is ideal for elderly, large arthritic dogs and those with joint and muscular problems. Extra padding is a requirement in a dog bed, which helps to reduce inflammation and also soothe the painful effects of hip dysplasia.
Our orthopedic beds are exclusively designed for large breeds dogs, but also benefit older and extra large dogs suffering from some bone and joint problems or from arthritis. Small and thin dogs alike also benefit from our dog bed's orthopedic non-hazardous and non-toxic foam.
ALL BULLY BEDS FEATURE:
- CertiPUR-US Certified Foam
- Foam is free of
PBDEs, TDCPP or TCEP ("Tris") flame retardants, mercury, lead, heavy metals, formaldehyde, phthalates, CFC's.
- Non-Hazardous Foam
- Foam Designed For Large Breed Dog Beds
- 20 Year No-Flat Guarantee
- Medium 34"x22"x4" / Large 48"x30"x7" / XL 52"x34"x7" / XXL 60"x48"x7"
- 7" Thickness On L, XL & XXL (Medium Features 4" Thickness)
- Non-Toxic, Hypoallergenic Materials
- 4.5lb Density Orthopedic Memory Foam Dog Bed
- Free Shipping
- Orthopedic Memory & Support Foam Just For Big Dogs
- Large dog beds designed for orthopedic joint and hip support to reduce discomfort.
- The perfect dog bed for great danes, mastiffs and other large breed dogs.
- Giant dog beds to accommodate any large breed.
- Read our reviews to see why Bully Beds are the best orthopedic big dog beds around. 
- Washable and Removable Microfiber Cover
- Free Breathable Internal Waterproof Cover ($75 Value)
- Beautiful Cover Accent Piping
- Heavy Duty Zipper With Cover To Prevent Chewing
- Non-Slip Base
- Love and Care
If your dog is a big-time chewer who might destroy a Bully Bed, check out our Chew-Resistant Dog Bed. Not quite as comfy but definitely more durable...
FAQs
What is an orthopedic dog bed?
An Orthopedic dog bed is one that has been built with extra support, ample durability, utmost safety, and maximum comfort in mind. The key lies mostly in the type of foam used, complemented with an orthopedic dog bed cover that either reinforces durability, adds a soft texture to its surface, or offers more medical benefits for extra sickly dogs.
Orthopedic dog beds are constructed in a way that effectively alleviates pressure off joints so as to lessen symptoms of arthritis, hip dysplasia, and other similar health conditions.
They are also perfect for senior dogs that are more susceptible to muscle degeneration, joint problems, and bone aches.
Do orthopedic dog beds provide comfort to dogs?
Yes, they most definitely do! The high quality foam that goes into the mattress of most, if not all, orthopedic dog beds help distribute the canine's weight evenly across their entire body. So whether or not the dog is feeling pain from medical conditions, this benefit helps provide extra comfort for them.
What are orthopedic dog beds made of?
A variety of materials can make up an orthopedic dog bed, so long as the core foam itself provides the support, stability, and comfort needed by dogs that most need one.
Bully Beds have a wide array of orthopedic dog beds, all made using CertiPUR-US Certified Foam, which is non-hazardous, non-toxic, and especially designed to cater to even the largest dog breeds.
Do dogs need orthopedic dog beds?
Not all dogs absolutely need orthopedic dog beds, but all dogs can surely benefit from them just the same.
Canines that we highly recommend investing in an orthopedic dog bed for are those that live with muscle aches, joint aches, medical conditions such as arthritis and hip dysplasia, and also dogs that are recovering from injuries.
Orthopedic dog beds are also perfect for senior dogs since they are more inclined to feel aches easily and have more sensitive bones.
Dogs and puppies that are perfectly healthy can benefit from orthopedic dog beds in the following ways:
They provide extra support and evenly distribute weight while the canine is resting
They provide extra comfort
They aid in preventing muscle and bone degeneration
They alleviate pain from injuries
What are the best orthopedic dog beds?
The best kind of orthopedic dog bed is one that efficiently provides enough cushion and support that alleviates the discomfort that your dog is experiencing.
We highly recommended investing in an orthopedic dog bed with removable and washable covers so as to make cleaning up much easier and faster.
How to clean or wash an orthopedic dog bed?
All Bully Beds orthopedic dog beds come with waterproof covers that make it very easy to wipe off liquid, dirt, and dog hair. Some models also have water resistant lining to ensure no moisture seeps in.
If you aim to thoroughly wash your canine's orthopedic dog bed, simply remove the cover via our zipper or Velcro enclosures, and place it in the washing machine. Every orthopedic dog bed is safe to wash with cold water.
Once it is time to dry, you can either put them in the dryer on low heat or leave it out to air dry.
How soft are the orthopedic dog beds?
Each orthopedic dog bed model we offer at Bully Beds has its own characteristics, as we made sure to offer one that suits almost every need and preference.
Every orthopedic dog bed feels very durable with ample support and material that naturally molds to your canine's body form. This ensures that their weight is evenly distributed and they feel utmost comfort. Some of our models come with Sherpa or faux fur covers that provide a much softer texture on top of the already gentle foam.
Are orthopedic dog beds durable?
Orthopedic dog beds are highly durable. Because they cater to canines that have more specific sets of needs, they are designed with safety, durability, stability, and comfort in mind.
Durability is definitely one of the qualities that each orthopedic dog bed aims for since it is important that every dog that uses one gets the tender lover and care they need.
Each orthopedic dog bed should also be able to withstand the weight of the canine using it and be durable enough not to thin out anytime soon. This is to ensure that the dog's joints do not come into contact with the hard floor's surface, as this is one of the factors that go into muscle degeneration and joint pain.