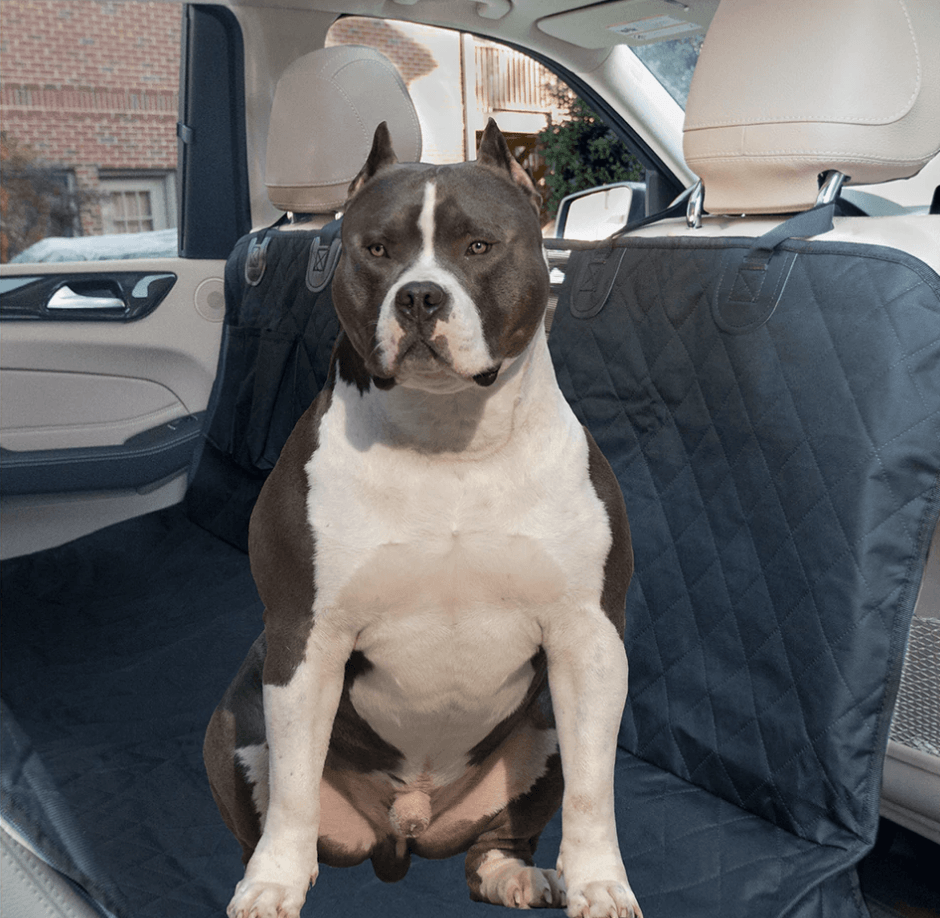 Back seat covers for dogs are the perfect way to protect your car's interior from dirt, urine, saliva, fur, and damage that may most likely result from bringing your fur friend along on rides.
Ensuring that you regularly take your pets out on a fun day under the sun is essential to their health and happiness. In order to carry this out in the best way possible (for your dog, your car, and your sanity), we highly recommend getting a car seat cover for travels, days at the park, trips to the vet, and so on.
Below is a handy guide of the top 5 things you should look for when choosing the best back seat cover for dogs
#1 High-quality, durable material
Whether or not your car is brand new, it is still an investment you should take proper care of. One of the best qualities of a dog car seat cover is how durable the material is since this is what ultimately protects both your canine and car's interior.
Because of this, we recommend investing in a car seat cover made from scratch resistant and chew resistant material.  This will greatly help prevent wear and tear, prolong the lifespan of your car seats, and ensure that it is durable enough to take on anything your pet may put it through.
#2 Waterproof or water-resistant material
Apart from durability, we suggest getting one with waterproof or water-resistant material. This will surely go a long way when packing up and sanitizing the area. The amount of time and effort you would normally put into cleaning your car seat could drastically be cut in half with a waterproof or water-resistant cover.
What is the difference between waterproof and water-resistant?
Waterproof covers offer more thorough protection compared to water-resistant ones. They do not absorb liquid so there is little to no chances of moisture penetrating (and eventually damaging) your seats.
However, water-resistant covers still do a great job. They are made of tightly woven fabric to ensure that most of the liquid cannot pass through easily, giving you time to wipe it off before it seeps in.
#3 Ease of installation
Since you expect to be cleaning it out after every use or so, consider how easy it would be to install on your seat and remove. This extra thought will save you the hassle and time; in turn making you appreciate the purchase more and make the most out of it.
Two main factors that fall into how easy it is to install are:
Whether or not it features built-in straps to fit along the headrests and other necessary areas.

If the bottom is non-slip and stays in place even when your dog moves around.
#4 How well it fits your car (and dog)
There are multiple kinds of car seat covers in the market today. You must consider where in the care you will be installing it, and if your dog will be comfortable with its size and placement.
Some dogs may prefer the front, while a lot of them also love staying in the back seat – especially larger breeds. The amount of space back there will ensure their comfort and security throughout the ride.
However, extra large dog car seats are not only perfect for big dogs, but also those that like to move around during travel. So it's great to invest in one that covers much more surface area!
#5 How safe it is for your dog
The safety of your dog should always be a priority whenever purchasing something for your pet. Especially when it comes to taking them on road trips, consider a car seat cover that ensures not only their protection but your safety as well.
We highly suggest looking into one with a hammock feature that creates a subtle barrier between the front and back rows for maximum protection. This way, they can freely move around without falling to the floor, slipping in between car seats, or distracting you while you drive. In the off chance that you may have to hit the brakes abruptly, this also ensures that your dog in the backseat does not go flying to the front.
A car seat cover for travel that has openings for seat belts are also a plus!
Our Recommended Back Seat Dog Cover
The Bully Beds back Seat Dog Cover is a top of the line option because it offers all 5 of the core features and then some!
Made of durable material that is both scratch resistant and chew resistant.

 

Is water-resistant, making it easier to clean any form of moisture, urine, saliva, and other types of liquid that could seep through.

 

It features multiple built in straps that perfectly secure around the headrests, as well as a non-slip bottom to keep it steady during the drive.

 

It measures a wide 58"x 54", making it perfect for big dogs, dogs that love to walk around during the trip, and for general safety purposes.

 

It is designed in a hammock style to protect the dog from falling over and/ or forward.

It has a mesh vent up front that separates the front and middle rows so your fur friend can still see you without being a distraction or jumping to the front.

 

It features openings for seatbelts.

It also has built in pockets for extra storage, allowing you to bring all your dog's essentials on the drive!

Comes in the classic color black, which can easily pair with any colored interior.
Alternative Option: Bully Beds Dog Cargo Liner
If your canine prefers (or perhaps needs) to stay in the cargo area, a great alternative is the Bully Beds Dog Cargo Liner.
It also covers a wide surface area at 54" x 90", and is both scratch resistant and chew resistant.
The bottom of the liner is non-slip and it features built in straps that easily attach to the headrests.